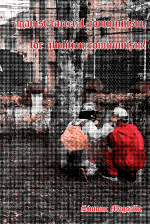 While the anarchists and abolitionists exclaim "ACAB! All Cops Are Bad," the pitiful spectacle of the carceral communists would instead amend "ACAB" with drivel saying, "it's ACCAB, All Capitalist Cops Are Bad." They continue, "socialist cops are not bad because they are proletarian in character and protect the proletarian State." Such convolution is mistaken in its belief that police can somehow have a proletarian character when historically the institutions of policing and incarceration were established to cement the rule of capital over proletarians. Not to mention that the notion that "socialist" cops protect the common good against criminal or "counterrevolutionary" elements is identical in content to bourgeois police apologia.
Mèo Mun, Xuân Rayne
Interview with Xuân Rayne Vietnamese, Anarchist, Sex Worker [en]
We interviewed
Xuân Rayne
, a Vietnamese anarchist and non-binary sex worker based in the United States for their insights into the intersection of their identities, the paths for international solidarity among sex workers, and how workers in general can stand with sex workers. Xuân uses any/all pronouns.