Title: How to Start a Community Pantry
Date: April 2021
Source: http://libcom.org/blog/paano-magsimula-ng-bodegong-bayanhow-start-community-pantry-17042021
Abolisyonistang Anonymous
How to Start a Community Pantry
How to Start a Community Pantry
Community pantries have been emerging recently, showing people that we are willing to help each other out because we can't rely on anyone else. Today we'll be discussing how you can get started at your own community, and potentially use that to find other people who want the world to change for the better.
Set up your own community pantry/bodegang bayan!
Send out the bat signal! It's easier to do things with others. Friends can also lead to connections that might be of help! However, while more is merrier, it might be best to start with a small group first.

TIP: Ask family or neighbors if they want to help or know anyone who wants to! Set up a group chat (GC) and make sure these are people who want to help out actively, too. You might also think of posting a call on your Facebook or other social media!

List down what you need. One way to approach this is to look at the food your family has prepared the last week. What are the most common ingredients? It might include rice, garlic, onion, proteins like chicken, meat and/or fish, etc. You can also include other essentials like vitamins, face masks, alcohol, etc. It's also important to decide where to set up and what materials you may need, like signs and tables!

TIP: Start an inventory either via spreadsheet or paper. Aside from the food you want to share, write down the materials you need and the people who have expressed the desire to share or help out.

Find a spot that has a lot of foot traffic. Depending on your area, this can be tricky. For example, if you're planning to put it on a sidewalk, make sure that the pantry won't be in the way of pedestrians.

TIP: Pick a location that's accessible to you or your group. If you live in a high-traffic area, outside your own home might be good! You will also need an address to share for anyone interested in sharing.

Set up! Use whatever you and your friends have. An old shelf, shoe rack, or boxes as makeshift tables are good to start with. Put up a sign that explains the community pantry. Be creative! Invite people to take what they need and give what they can. Tell people about it! And don't forget to translate!

TIP: Maybe letting your barangay know about the community pantry can ensure its safety.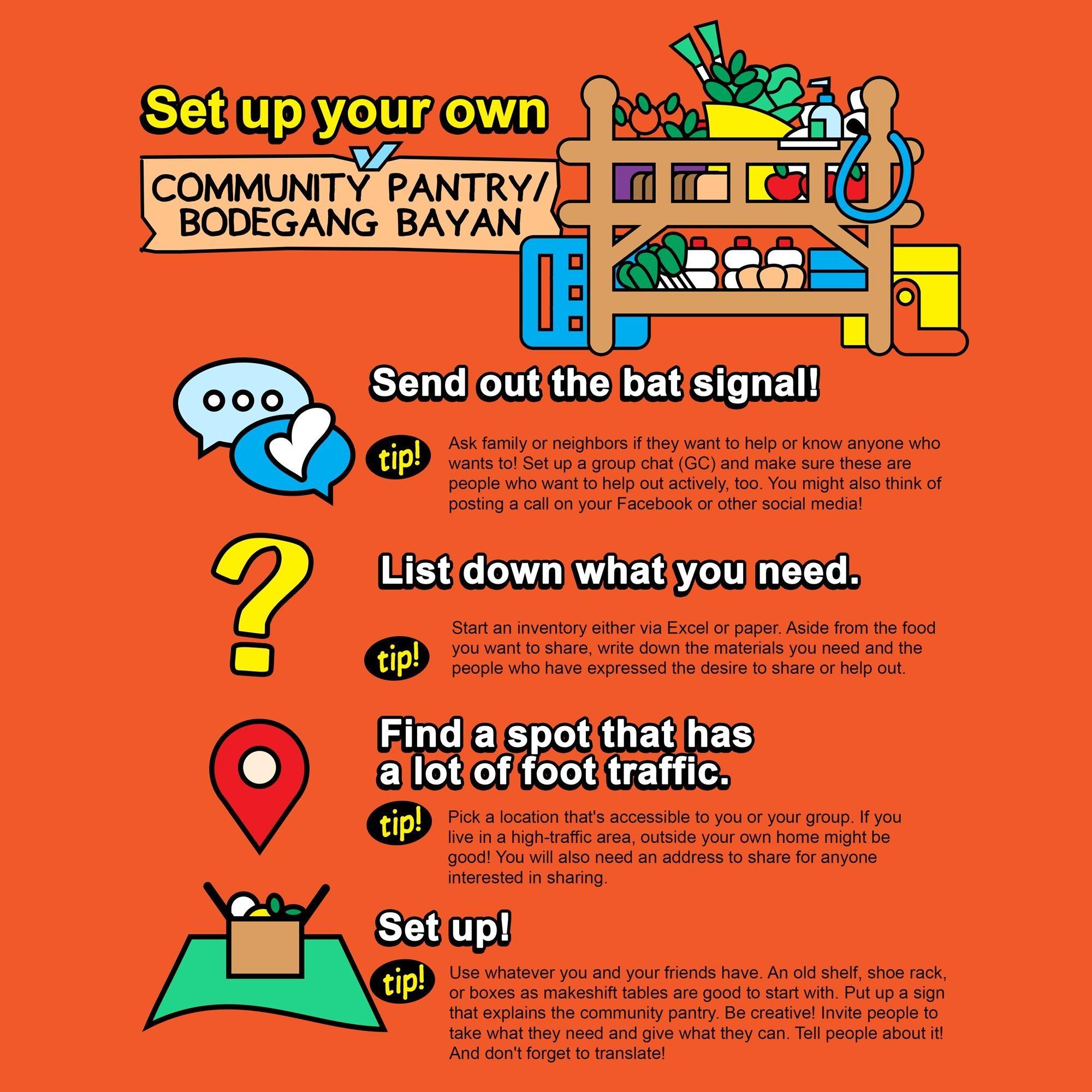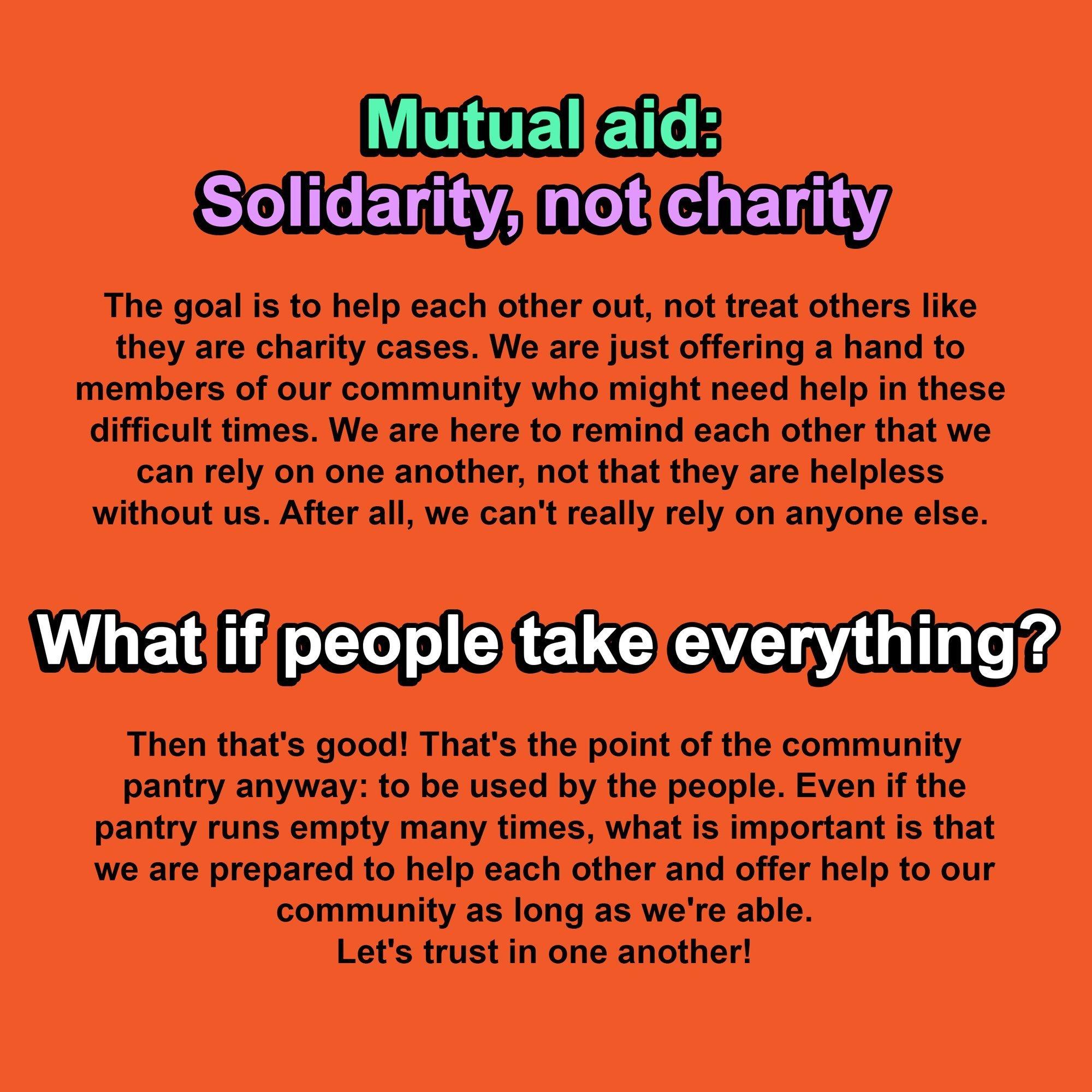 Mutual aid: Solidarity, not charity
The goal is to help each other out, not treat others like they are charity cases. We are just offering a hand to members of our community who might need help in these difficult times. We are here to remind each other that we can rely on one another, not that they are helpless without us. After all, we can't really rely on anyone else.
Frequently Asked Questions
What if people take everything? — Then that's good! That's the point of the community pantry anyway: to be used by the people. Even if the pantry runs empty many times, what is important is that we are prepared to help each other and offer help to our community as long as we're able. Let's trust in one another!
What if my community isn't in immediate need? — Gather any surplus groceries, PPE, meds that people have bought and see if there are any pantries in your area that you can leave them at OR partner with people from your area to start a pantry.
Is it really sustainable? — Of course! Since these pantries aren't meant to be purely charity, but solidarity by the community, it means that the goods won't be coming from an impersonal higher-up, but from people who actually care for the lesser-privileged in their area. So contributions won't dry up with a lack of interest; it's in the people's self interest to help one another!
Besides, you are not alone! Thousands, if not millions, of people across the world practice mutual aid and collective care against the COVID-19 pandemic. Below are examples of other mutual aid projects all around the world from New York, Poland, Puerto Rico, and Brazil.
Let a thousand pantries bloom!